Career Center: Spotlight on META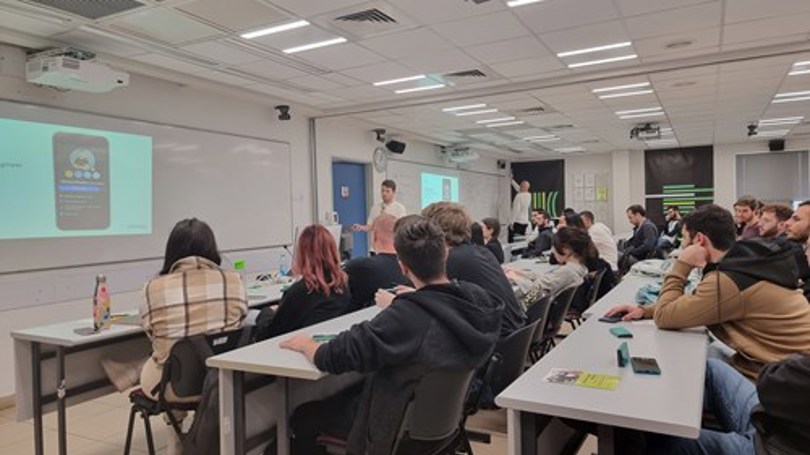 The 2022-23 academic year continues to produce unique encounters between Afeka students and the industry. This time our featured guest was Mickey Khaitov of Meta Israel, which operates Facebook, Instagram, and WhatsApp, among others. His talk was attended by numerous students from Afeka's software engineering school, industrial engineering school, and computer science program.
Khaitov, a senior software engineer at Meta and graduate of the company's internship program, told a fascinated audience about Meta's activities, products, and employees. He outlined Meta's employment opportunities and recruitment process. Among the main topics he covered was preparing for job interviews – from preparing for technical interviews to practical tips for clearing the first hurdle into the industry: understanding the process, understanding the technical subject matter relevant to the job, and good interpersonal communication. His talk included a simulation, in which Khaitov solved together with the students a real question from actual Meta job interviews.
"Mickey's talk was practical and interesting," said industrial engineering student Din Hahiashvili. "It gave us a look into to all the things Meta does, all the relevant jobs, and more. With a little faith and lots of practice, maybe one day it will be us up there presenting to the students at Afeka," she concluded.
Karina Master, head of Afeka's Engineering Career Center: "Afeka is committed to lead the training of engineers, giving them the tools to become not only excellent engineers – but just as importantly, valuable employees who contribute to the industry. The encounter with the representative from Meta is a wonderful illustration of how Afeka's spotlight talks challenge our students and drive them to aim high. They leave these talks with a toolbox of practical tips, as well as a deeper appreciation of the importance of combining the academics and core skills they receive at Afeka. We're delighted with the impressive student response to these talks, and will continue to create these connections between Afeka students and the industry."