Career Center – Spotlight on SAP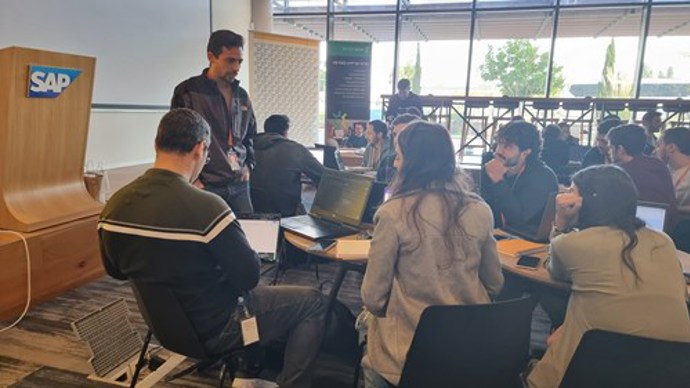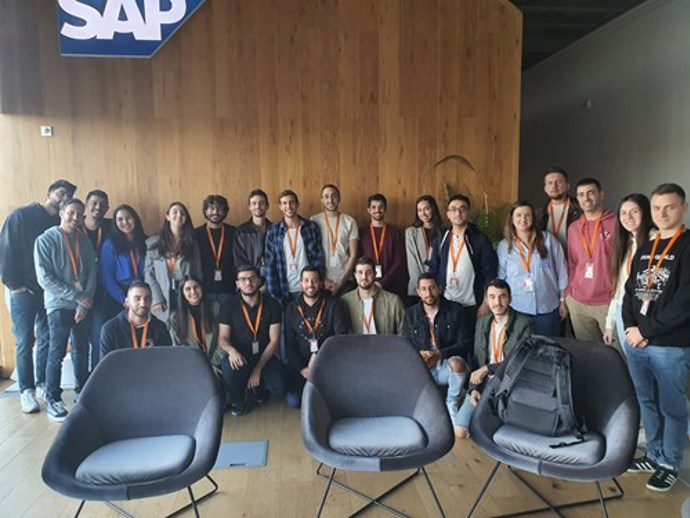 After two years of holding its spotlight encounters virtually, the Career Center launched the 2022-23 academic year with a real meeting at SAP's development center in Ra'anana – the first in a series of encounters with representatives from leading companies planned throughout the year.
The encounter started with Eliel Schurman, graduate of Afeka's school of software engineering and Head of Cloud Engineering & Operation at SAP. Schurman spoke with the students about the development center, the work of a developer at SAP, the company's core values, and its extensive social activities. The encounter continued with a tour of the center's development floors, where students were introduced to the D-Shop: a room entirely devoted to encouraging employees' creativity and out-of-the-box thinking, serving as a conceptual incubator for original employee projects.
During the tour, the students met Afeka alumni and students who work at SAP, and heard about their experiences. According to the students, these encounters were especially useful, teaching them a great deal. Another part of the spotlight encounter included a conversation with a SAP recruiter about the hottest jobs currently available and promotion opportunities for employees. Additionally, students spoke with an employee who began at SAP as a student and was recently promoted to team leader.
"This visit was very enlightening," said Daniel Ben Avi, fourth-year student of software engineering at Afeka. "We got a picture of the company's organizational structure, we received lots of tips on how to prepare for the job search, and in the end we took part in a learning challenge and simulated interviews."
Karina Master, head of Afeka's Engineering Career Center: "This encounter was the opening shot for the upcoming academic year, which will enable our students to take part in enriching, inspiring, and practical encounters as a further step towards their career as Afeka-trained engineers. The Engineering Career Center believes that Afeka's students are given all the tools for becoming excellent, hardworking, creative engineers with superb personal skills, who will be an asset to any employer. That's why we work to introduce them to representatives from today's market-leading companies, helping them to find the right workplace for them, whether during their studies or after graduation, and giving them all the tools for success."