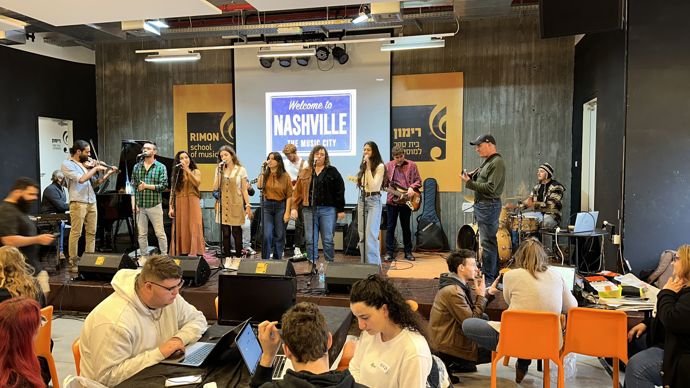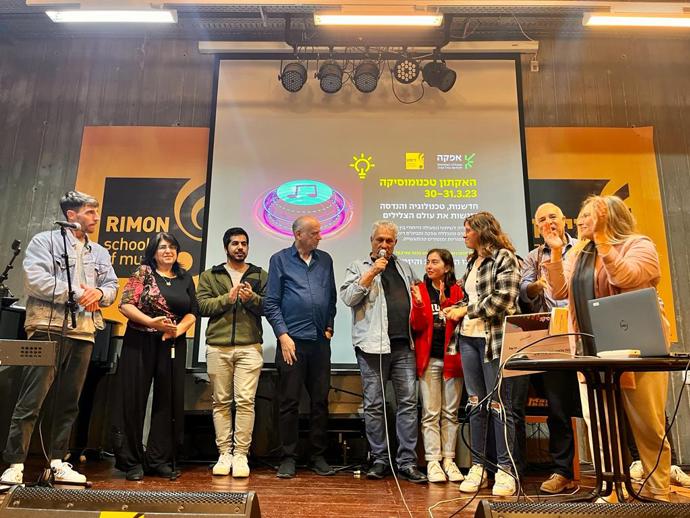 How to make music available to the deaf? Is it possible to create a playlist from an image? Can at-risk youths help each other through music sharing?
At the second 24-hour Technomusic hackathon held last weekend, participants got to think, create, develop, learn – and even be moved to tears.
On the weekend of March 23rd, a unique hackathon was held for the second time, joining the two seemingly distant worlds of engineering and music.
Technomusic is fast becoming a tradition. This unique collaboration brought together Afeka engineering students and students from the Rimon School of Music, who together spent 24 hours straight working to find technological solutions to musical needs.
The participants included thirty students from both institutions, divided into seven multidisciplinary teams: musicians alongside future engineers from Afeka's various schools.
The teams were helped throughout the event by mentors and instructors from the engineering and music worlds, who assisted, advised, and guided the students towards reaching a prototype.
First prize went to an exciting project to make music available to the deaf using a smart glove.
The project team included Ohav Asulin, a singer, Rimon student, and daughter of two congenitally deaf parents who'd never heard her sing. Along with her were third-year medical engineering student Dov Cohen, Matanel Mastorov of Afeka's software engineering school, and Gil Stock of Rimon.
The group developed a smart glove that translates music into corresponding vibrations and lights. The final demonstration was done at the end of the competition with the help of Ohav's parents – leaving no dry eye in the house.
"Taking part in this event was an incredible experience for me," says team member Dov Cohen. "It was 24 hours of nonstop work in a supportive environment. There were moments throughout the competition when I didn't think I had the ability to contribute, but the mentors and instructors were there to teach, advise, and help. Thanks to them, over those 24 hours I experienced work that promotes my own curriculum and will help me in the future. Our device is something we'd like to keep working on as a team of engineers and musicians. We've already scheduled another session with one of the mentors who've helped us, and I'm considering continuing this work as part of my graduation project."
Dov described the long-term benefits which he feels participating in the event has given him. "In a single 24-hour period, I've made connections that I believe will serve me all through school and in my career."
And what does he think of the glove they invented? "Our development provides a solution, and allows those who can't experience music to enjoy something basic which we all experience on a daily basis. When I saw Ohav's parents trying our product, I realized just how important it is. It was an empowering experience."
Second prize went to the LaHit development – an anonymous online platform for music sharing among teens aged 12 and up who suffer from depression.
The team included Afeka students Gal Blau and Ligal Yaakov, with Rimon student Gal Lindberg.
Third prize went to the Bowei digital violin, which produces violin sounds using a continuous touch sensor to replace the violin neck, and a band on a reel that generates sound when pulled, to replace the violin bow.
The team included Afeka students Ilan Bonderevski, Bar Moshe, and Roee Israel Yehuda, with Rimon students Tomer Shmuel, Nofar Haber, and Yoav Rotbard.
Fourth prize went to the GigIt application – a social platform for connecting musicians seeking bandmates or jamming partners.
The team included Rimon musicians Hadas Elisha, Bar Ben-Ari, Linoy Zohar, Guy Fektor, and Bar Steiner, with software mentor Yahav Ohana.
Other Technomusic projects included:
Captune – A digital device for piano (or any musical instrument) that records the musician's ideas and gives them access to materials for future work. The team included Daniel Greenberg and Tomer Zilber of Rimon, with Yinon Antebi of Afeka.
Pictunes – Creating a playlist from an image: an application that analyzes an image representing a current mood, and generates a playlist for the user with songs that correspond to the colors in the image. The team included Ido Eini of Rimon, with Daniel Bertshneider, Omer Noy, Liran Sorokin, and Nissan Yamin of Afeka.
Musaienty – Reduces various kinds of anxiety through personalized music. The team included Tal Golan and Lidor Meir of Rimon, with Ido Shamir and Eyal Paneiro of Afeka.
Said Yael Danai Menuhin, director of Afeka's Center for Innovation and Entrepreneurship and a Technomusic mentor:
"Afeka College believes in educating engineers who in addition to uncompromising professional knowledge are also people of vision and creation, people who can think outside the box and meet challenges through engineering.
This is the second consecutive year that we've joined forces with the Rimon School of Music, and discovered how beautiful, original, and positive this connection between the two worlds can be. I'm glad that the atmosphere at the 24-hour hackathon was so good and productive, and I'm certain that the teams that formed there will carry on collaborating to create a product.
As an educational institution, we believe that engineering can serve the world in numerous aspects, and we encourage our students to identify different needs from various areas and translate them into technological tools."
We wish to thank our Rimon partners: Nava Swersky Sofer, Izhar Shechter, Amir Vinci, Gil Steinberg, and producer Michal Cohen.
Competition jury:
Yehuda Eder, president and founder of Rimon
Alon Barnea, vice president of Afeka
Dr. Deganit Armon, senior lecturer at Afeka's school of software engineering
Dov Moran, high tech pioneer, entrepreneur, inventor and the disk-on-key, and VC investor. Plays the bongos
Yael Ben-Dror, team leader at Waves Audio, high tech professional for over 29 years, and Rimon alumnus, vocal performance program
Shirly Kones, high tech entrepreneur and Rimon alumnus and musician