Energetic Spotlight: SolarEdge visits Afeka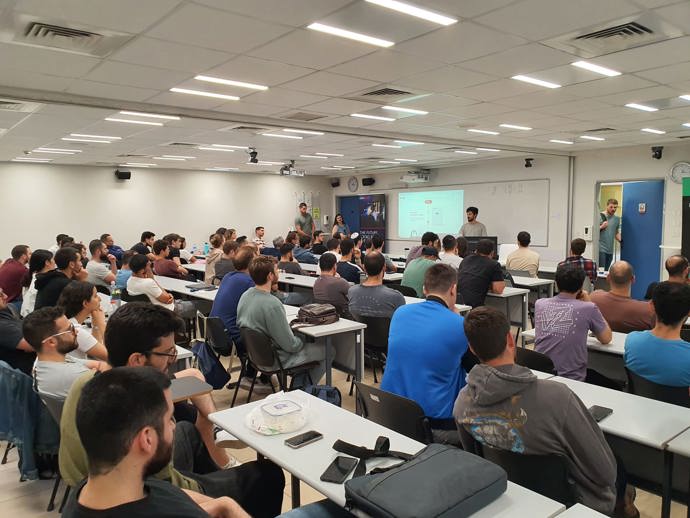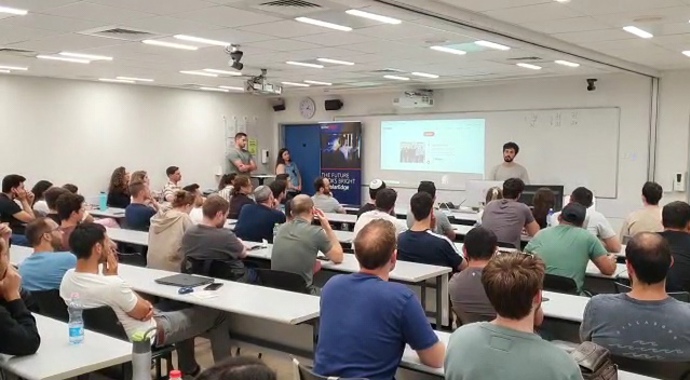 An especially successful spotlight encounter was recently held at Afeka with SolarEdge, an international Israeli company rated among the top three global leaders in renewable energy.
Afeka's spotlight encounters are designed to expose students and recent alumni to companies in the industry, including those companies' technological activities and recruitment processes – with a focus on companies that have available positions relevant to engineering students.
The connection with SolarEdge was made through a collaboration between Afeka's Engineering Career Center and alumni relations department, with the mediation of Dvir Amoyal, a software team leader at SolarEdge, an electrical engineering alumnus with an M.Sc in energy engineering from Afeka, and an external lecturer at Afeka's school of electrical engineering.
The encounter was attended by over 100 students third-year and up from Afeka's electrical engineering, industrial engineering, and mechanical engineering schools.
Participants were introduced to SolarEdge by an Afeka student and alumni who work at the company, each of whom presented their professional duties and activities in turn, sharing their insights and experience with the students. Also taking part in the encounter were SolarEdge talent recruiters, including Orit Casper, who gave tips and highlights for job interviews.
Afeka electrical engineering alumnus Eitan Halfon, who started working at SolarEdge during his studies, advised the students to think about their graduation project and make sure that it corresponds to the career they want, since he himself gained applied experience during the project, which later helped him in his duties as hardware engineer.
Elad Strunkel, third-year student in Afeka's software engineering evening program and a member of SolarEdge's integration department, described after the meeting how Afeka contributes to him as an industry-employed student: "I feel that Afeka provides me with numerous tools as a student who already works in the industry. Beyond the professional knowledge that's relevant to the things I deal with daily, such as coding and electricity, I run into many instances where the vital skills Afeka promotes are extremely helpful. For example, it's critical to have self-learning skills. Many of our tasks require that, and the tools I get at Afeka help me to succeed."
Eitan Halfon also cited the vital skills acquired at Afeka as an industry advantage, adding: "Beyond vital skills, Afeka has an extremely high academic level, and another major advantage is the labs, which give you critical hands-on experience." Even though he graduated several years ago, Eitan says that he still visits Afeka once every few months to use the labs.
This spotlight encounter was extremely successful, in terms of both attendance and the interest shown by the students: the guests were inundated with questions during and after the encounter, and spoke directly with the students.
We were especially pleased when SolarEdge recruiters and representatives praised the impressive student turnout and Afeka's spotlight encounter platform.
Karina Master, director of Afeka's Engineering Career Center: "We at Afeka believe in deepening the college's ties to the industry, and strive to create additional encounters and collaborations. Afeka considers it a top priority to shed a spotlight on technology and engineering companies that offer relevant employment opportunities for our students and alumni."