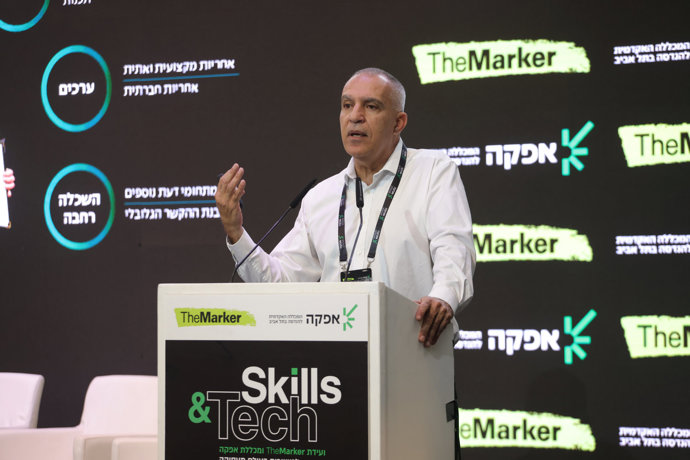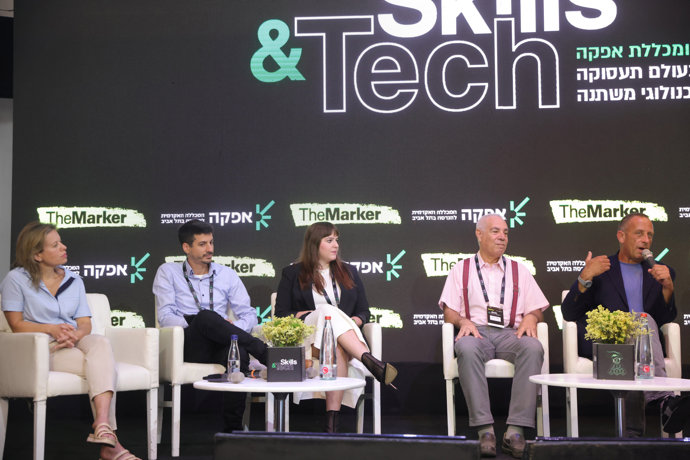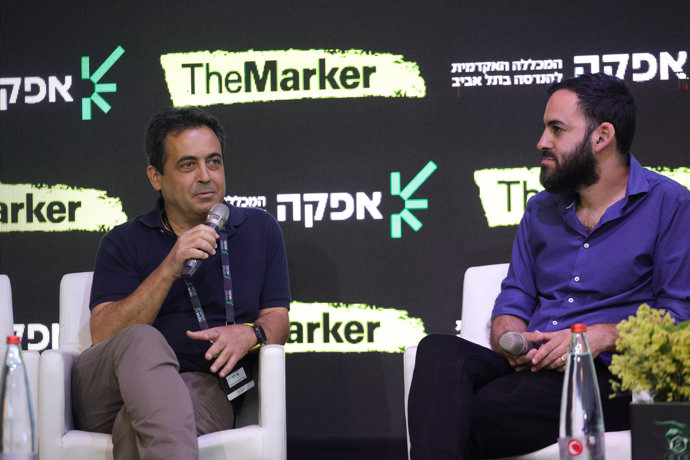 In a world of rapid technological progress, changes to the job market must be discussed. A first-of-it-kind joint conference by Afeka and TheMarker saw key social, technological, and national figures all sharing the same stage.
What did they have to say about our collective future?
June 2023 witnessed the first-ever Skills & Tech conference, a joint initiative by Afeka Academic College of Engineering in Tel Aviv and TheMarker.
The conference was conceived as an annual platform for the strategic discussion of issues relating to the future of the job market – which even now is being technologized – with a focus on the skills required and how to instill them throughout the educational continuum. This further broadens the dialogue taking place in recent years at Afeka, among other things as part of the Human Capital conference on K-12 skill acquisition.
The Skills & Tech conference was attended by hundreds of decisionmakers from education, academia, industry, national policy, defense, and more. It took place at Tel Aviv's TLV-EAST hall and was cast live on TheMarker's websites and Afeka's Facebook page.
KEY HIGHLIGHTS
Prof. Ami Moyal, president of Afeka Academic College of Engineering in Tel Aviv opened the conference with his views on the growing importance of soft skills, which have become critical skills, and on our duty to instill them as part of any educational process. Prof. Moyal highlighted these skills' importance not only for the job market, but also for optimal functioning in modern society and lifelong improvement of learning processes – in fact, for any task in life.
"I believe wholeheartedly in having a worldview that defines the figure (or several figure) of a graduate within the education system," said Prof. Moyal. "If this happens, we'll have a shared language and shared goals, and achieve the best outcome at the level of the learner, the system, and the state in general. I consider this an issue of national resilience. It bears national, social, economic, and educational importance, and it is our duty to provide every young man and woman with the appropriate educational process."
Prof. Anat Lechner, a professor of business management at the Stern School of Business, New York University, presented her (rather concerned) view on the future job market vis-à-vis artificial intelligence, addressing four key axes: Our current state of AI use; whether AI can supplant us as workers; the current and future abilities of AI; and finally, whether this is an opportunity or a threat, and how to operate within this range.
"The age of AI is here," Prof. Lechner summed up, adding: "AI may not replace you, but those who know how to wield it will certainly replace you. This is a wakeup call for us all to get up in the morning and learn the new material."
Prof. Dan Ben-David of the Shoresh Institution for Socioeconomic Research and Tel Aviv University presented the talk "Israel at a Crossroads: Directions, Perceptions, Illusions, and Challenges", on the state of learning among Israeli children, the relative strengths and weaknesses of Israeli workers, the obstacles facing them, the high tech market, and more.
The conference included a conversation between Prof. Karnit Flug, vice president of research at the Israel Democracy Institute and former governor of the Bank of Israel, and Sami Peretz, senior commentator for TheMarker.
Prof. Flug, whose interests include the government and the business sector's preparedness for the future job market, weighed in on the advisability of realizing the vision of one million Israeli high tech workers and its potential implications for the rest of the economy; the rather unsatisfactory integration of minorities, especially women and Arabs, in high tech; the government's role in integrating those groups in industry; and the education system's role in the process. "The government's responsibility," she said, "begins at the preschool level."
Another conversation took place between general director of the Ministry of Economy Amnon Merhav and TheMarker writer Nati Tucker. Among other things, they touched on state-sponsored job training, the integration of orthodox Jews in the job market, and more.
A conversation between Amdocs Israel CEO Shai Levy and TheMarker writer Omri Zerachovitz featured topics including recent changes to the Israeli high tech market, training workers for maximum compatibility, integrating women and marginalized populations, and more.
Prof. Daniel Haimovitz, president of Ben-Gurion University and TheMarker writer Anat Georgy discussed academia's preparation for the evolving technological world.
"We need to understand that AI is an extremely powerful tool that allows for great creativity, but it cannot manufacture knowledge out of thin air," said Prof. Haimovitz.
According to him, technological advances "will force academia and the education system as a whole to teach children how to be critical, how to read for truth as opposed to fake news, and how to research, cross-reference facts, and think outside the box.
Ultimately, ChatGPT cannot replace the true magic of academia – where people from computer science, psychology, social work, and maybe medicine can meet for coffee on campus and brainstorm, each in their own field."
Hanan Brand, vice president and head of the startup division at the Israel Innovation Authority, discussed preparing the job market for upcoming changes and the technologies that will become more prominent in the future.
He mentioned the need to broaden exposure to knowledge as early as school age, and the importance of adopting technologies in academia as part of training. Additionally, he discussed Israel's place in different high tech sectors, including food tech, climate, and more; lifelong learning at organizations through in-house training; and the importance of multidisciplinarity as the truest and most meaningful advantage for future industry.
Head of Salesforce Israel's R&D center Efrat Rapoport spoke with TheMarker writer Omri Zerachovitz. According to Ms. Rapoport, technology is still at a stage where it needs an actual person to examine its outcomes. The conversation also touched on team diversity, especially in the current job market where competition over workers is intense.
The conference featured two fascinating roundtables:
Education in the tech job market: Where will we get workers?
Moderated by TheMarker writer Netanel Gamss. Participants included Dadi Perlmutter, technology and social entrepreneur and former VP at global Intel; Karin Mayer Rubinstein, CEO and president of Israel Advanced Technology Industries (IATI); Muhana Fares, vice director general and director of the Administration of Technological Education at the Ministry of Education; Dr. Amir Ziv-Av, member of the Technion board of governors, Technion lecturer, and owner of Ziv-Av Technologies; and Safaa Abu Sbeit, lab director at HP Indigo.
The skills required vs. reality: What is troubling managers?
Moderated by Yarden Ben Gal Hirshhorn, editor of TheMarker's career and management section. Participants included Yaniv Garty, former CEO of Intel Israel; Alon Barnea, vice president for development and strategic partnerships at Afeka college; Ben Reuveni, CEO of Gloat; Shir Landau, senior team leader at Mobileye; and Dr. Keren Rado Levnovski, head of HR at Check Point, Israel.
Towards the end of the conference, Afeka and TheMarker unveiled their new Skill Index, designed to identify the soft skills required in the Israeli economy, based on an in-depth survey among managers at leading companies.
The survey was conducted recently among two groups of managers: high tech managers, and managers at other industries, provided that they manage five or more employees and are involved in new hiring.
Among the survey's findings:
An academic degree scored 6.8 in importance for hiring among high tech managers, but only 4.6 among managers at other industries.
Soft skills – or as they're known at Afeka, critical skills – are the most crucial condition for getting promoted among high tech managers, and are also what they consider most critical for dealing with the company's challenges.
"The importance of soft skills keeps growing every year, even equaling the importance placed on professional knowledge in the job market," said Afeka president Prof. Moyal to Yarden Ben Gal Hirshhorn, editor of TheMarker's career and management section during the unveiling of the index. "That is why educational processes, training, and academic studies alone are no longer enough. They must include not only the transfer of knowledge but the instilling of soft skills and proficiencies as inbuilt pedagogic outcomes within the educational process."